I 1.25 law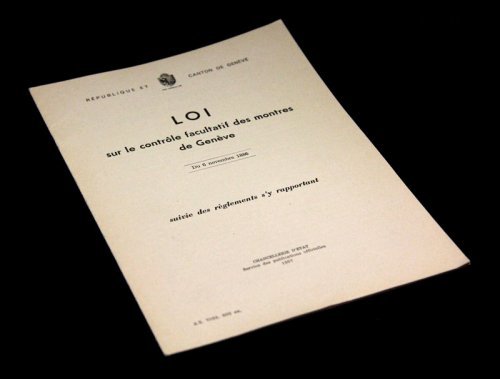 The MAIN BOARD of the Republic and Canton of Geneva, promulgated in 1886, the I 1.25 law regarding the optional control of timepieces to cover the needs required on the high quality certification in Horology, on craftsmanship, on consistent and sustainable daily rate and also on certificates of origin.
The update of the law regarding the Laboratory of Horology and Microengineering of Geneva in December 2008 allows pushing back the limitations in the horological Excellence.
Summary of the Law
The State of Geneva delegates to the Geneva Laboratory of Horology and Microengineering (hereafter Laboratory), covering three distinct activities, the operation of:
The Poinçon de Genève Office, responsible for:

The optional control of timepiece made and assembled in the Canton of Geneva, by marking watches, submitted by Geneva-based manufacturers, with the official stamp of the state of Geneva, according to criteria fix in the Poinçon de Genève rules.
The drawing up or authentication of certificates of origin
The adding of a specific marking of watches already marked

The "Observatoire chronométrique+" office, responsible for :

The official testing of chronometer functions and the certification that the watch and/or the movement submitted reach full chronometer criteria and testing rules defined by its technical committee appointed according article number X of the current law.
de l'établissement d'un certificat garantissant le respect des directives.

The Horological laboratory, responsible for :

In addition, the Laboratory is responsible for carrying out and promoting its activities.